Andy passed his IPO3
on Sunday October 14th 2007
at North Jersey Police & SchH Club
Andy placed 1st in Rally Advanced at the
Delaware Valley German Shepherd Dog Trial
on October 5th 2007 with a score of 94pts.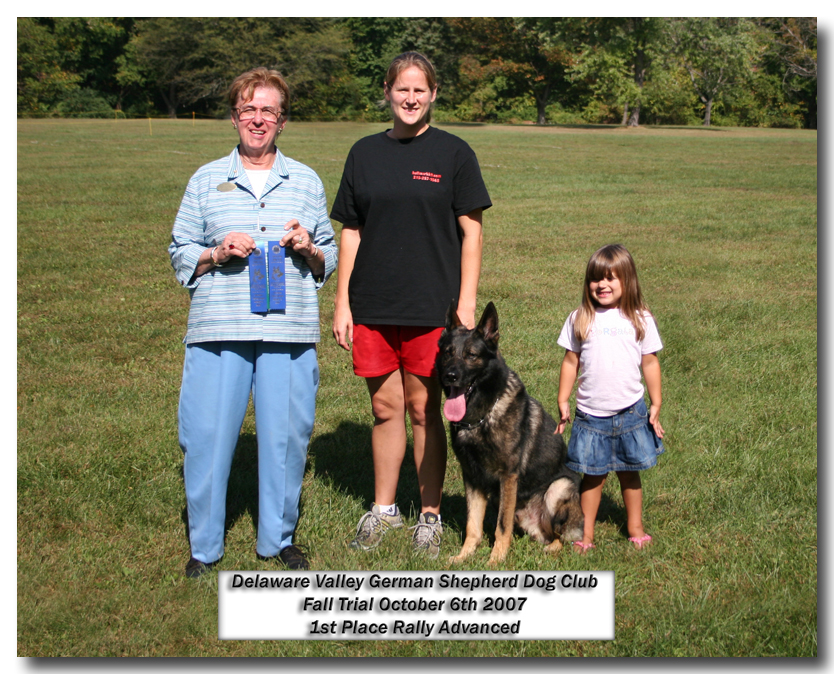 Andy Passed his SchH3
at Hegins Valley Police and SchH Club's Trial
on May 13th 2007
Scores: 88-85-87=260pts. TSB Pronounced
Judge: USA Bill Szentmiklosi
Andy passed his SchH2
at Upper Bucks SchH Club's Trial on April 28th 2007!!!
Scores 94-87-91=272pts. TSB Pronounced
Andy finished his Rally Title (RN) on October 7th, 2006 with a 2nd place score of 97pts.
We attended Dock Dogs Big Air event at Cabela's in Hamburg, PA on October 6th 2006 intending to finish Andy's NJ title with one more jump in the NJ class...well he exceeded my expectations and jumped far enough to enter the higher Dock Dogs class of Junior Jumper (JJ). He needs 4 more jumps to finish his JJ title.
Andy achieved his SchH 1 Title on 8-27-06!!
Scores 81-87-81=249 TSB Pronounced
Andy also passed his GSDCA- Temperament Certification (TC) on 8-26-06
Evaluators comments: "You have a VERY nice dog there, he's the highest scoring and best dog I've seen today, this is what a GSD should be"
Andy finished his CDX on May 5th 2006 with a First Place score of 190.5 at the Northern NJ GSDC Specialty Show in Trenton NJ.
*Andy Passed his SchH BH under SV Judge Louis Vandepoel at the Garden State Schutzhund Club trial on Sunday 4-23-06